Learn to Belly Dance with Chelydra!
Specializing in Incorporating Energy, Focus, and Personality Into Your Dance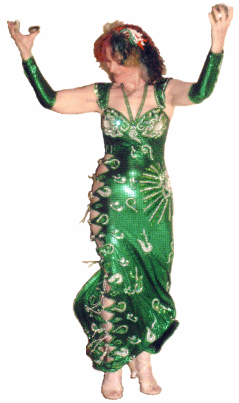 Photo © 2005 by Donald Bridgers
Chelydra (pronounced shell-EE-druh) offers private, group, and seminar-level instruction in cabaret-style middle eastern dance (belly dance). Specialties include an intuitive and interpretive approach to finger cymbals (zils), and creative drum solos.
Described as a "dancer with an attitude" - sometimes good, sometimes bad, but always mischievous, Chelydra considers middle eastern dance to be serious fun. (For more information, see Career Highlights.)
Chelydra offers weekly classes at the beginner/intermediate level in Newport News, Virginia (USA). She is also available for private instruction, coaching, mini-workshops, and seminars.
CLASSES
Come and discover the elegant way to exercise! Stretch, tone, strengthen, and learn to move body parts you didn't even knew existed!
Weekly classes are offered at Fields Dance Studio, 596 Hemlock Road, Newport News, VA (USA). Telephone (757) 596-5113 for the current class schedule.
CAREER HIGHLIGHTS
student of Middle Eastern dance since 1978
professional performer since 1980
director and choreographer of Caravan East Middle Eastern dance troupe from 1981-1998
selected to perform in the Old Dominion University Local Choreographer's Showcase in 2004
sponsor of the annual Beach Blanket Beledi seminar in Nags Head, NC
producer of the Oriental Odyssey series of professional dance concerts featuring dances of North Africa and the Middle East
producer of the No Frills series of instructional videos
private instruction with Suhaila Salimpour (CA), Riskallah Riyad (CT), Habiba (PA), Artemis (MD), Dalia Carella (NY), Laurel Victoria Gray (MD), Zeina (TN)
seminar-level instruction with Ibrahim Farrah, Cassandra, Jajouka, Morocco, Phaedra, Serena, Elena, Vashti, Karen Barbee, Amaya, Kathryn Ferguson, Yousry Sharif, Horacio Cifuentes, Beata Zadou, Shakira, Mesmera, Aziz, Nadia Hamdi, Suzanna Del Vecchio, Bert Balladine, Kay Hardy Campbell, Zahra Zuhair
instructor at Fields Dance Studio since 1985
contributing writer to Habibi, The Crescent Moon, Zaghareet
additional dance & music education, including six years of ballet, four years of piano, and seven+ years of tap