Folk Dances of the Middle East & North Africa

Chelydra (pronounced shell-EE-druh) offers performances and instruction in a wide variety of folk dances of North Africa and the Middle East, including: Egypt, Tunisia, Morocco, Turkey, Saudi Arabia, Persia (Iran), and Palestine.
In the Peninsula and Tidewater area of Southeastern Virginia (USA), school programs are also provided for the auditorium or classroom workshop environment. Students will learn the music, customs, dance, and traditional dress for one or more regional folk dances. Whenever possible, audience participation is included. Programs are best suited for grades 3-8.



Nubian Dance

A lighthearted and joyous dance from the area of the Nubian desert, on the border between Egypt and Sudan.


Photo by Robert Lee.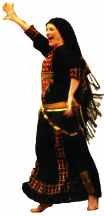 Persian Dance: Bandari

A dance from the area surrounding the port city of Bandar Abbas, on the Persian Gulf.


Photo 2009 by meganh.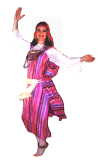 Tunisian Dance

The dances of Tunisia are characterized by forward & backward twists of the hips, emphasized by the simple tassel belt and the "apron" on the back of the melia (a wrapped tunic of striped fabric).


Photo by Robert Lee.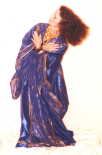 Saudi Arabian Women's Dance (Gulf States Dance)

Rarely seen in public, the dance of the women of Saudi Arabia and the Gulf States is designed to emphasize the fabric and embroidery of the Thobe Nashal (a loose overdress with embellished center panel) and also the women's hair and heavy gold jewelry.


Photo by Robert Lee.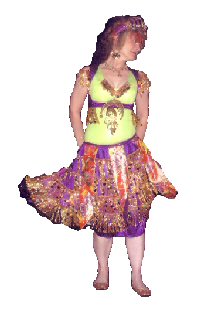 Ghawazee Dance (Egyptian Romany or Gypsy Dance)
The ghawazee tribe of Egypt have been entertainers since the arrival of the Romany people in Egypt. The traditional costume of a fitted coat and voluminous trousers emphasized the strong hip movements.
Photo by Donald Bridgers.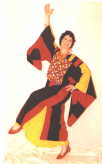 Bedouin Dance

The folk dances of the nomadic Bedouin tribes incorporate debke, or line dance, combinations, along with strong shoulder movements. A highly embroidered caftan is traditionally worn.


Photo by Robert Lee.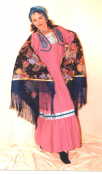 Egyptian Village Dance (Fellahin Dance)
The village dances of Egypt are many and varied, and provide the roots of many of the movements and traditions of cabaret-style dance (belly dance). Although the details of the yoke, sleeve, and ruffle will change from area to area, the traditional fellahin dress is brightly colored and modestly covers the body.
Photo by Robert Lee.

Romany Dance (Gypsy Dance)
The dances of the Romany people are many and varied throughout the Middle East and Europe. The voluminous skirt is traditional, and is used frequently in the Romany dances of Spain, Morocco, Turkey, and Russia.
Photo by Claude Sneed.


Moroccan Dance (Schikhatt Dance)
The Moroccan Schikhatt dancers borrow footwork resembling flamenco from their Spanish neighbors. The traditional dress consists of a lace coat worn over a full underdress.
Photo by Unknown.